Lego Trains - History and Popular Lego Train Sets
After the Danish toy company, Lego found international success with their plastic interlocking toy bricks that could be used to create anything user wanted; they quickly started selling pre-made sets that enabled the creation of fixed items, mostly transportation vehicles. One of the most popular early Lego sets were trains who had the ability to roll on tracks and later on to be driven automatically using onboard electrical locomotives. Very quickly the offer of train sets expanded, giving users the ability to construct only simple train and tracks but also roadside objects such as stations, signal boxes, trackside buildings, rolling stock, overland bridges, placements for many types of minifigs (such as passengers, train operators, police, city travelers, construction and transportation workers) and heavy haul equipment and vehicles that could be used to load and unload Lego freight trains. Almost all Lego train sets use so-called 'L-gauge" railway track system that is 37.5mm wide. The price of Lego train sets can range widely from affordable $100-200 models to the very large sets that can cost even over $2000. In addition to the ability to purchase train sets, Lego customers can also purchase individual railway objects such as rigid or flexible tracks, train stations, locomotives, many types of carriages and freight wagons, switching mechanisms, battery boxes, wheel sets, rail signals, gates, remote control units, nighttime illumination and more.
Because of the high complexity of some train Lego sets and almost limitless expandability of the train track lines, Lego trains quickly became very popular among the adult fans of Lego products. A Large community of Lego train builders appeared all around the world, with enthusiasts regularly building not only large recreations of city railway networks and stations for home use, but also for public showcases. The largest railway layouts are often created not by a single user, but by the combined efforts of several train clubs.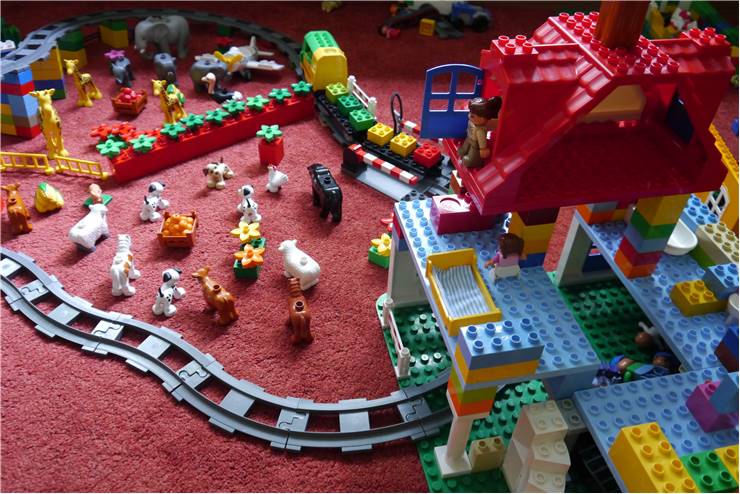 History of Lego Trains
The history of Lego train sets can be separated into several eras and product types:
Initial designs (1966-1980) – The first train sets sold by Lego had very small Lego brick count, rough visual design, and no onboard drive systems. The user had to manually move the train and its carriages across simple railway tracks. Set #115 from 1966 was first to introduce battery-powered locomotive on a circular track. In 1969 train set #720 operated using 12-vot electrified rails and 1972 saw the release of the set where electricity also controlled track-side signals and track pivoting mechanism. All trains released before 1980 could be used together on the same railway tracks, enabling users to create larger train sets.
1980 redesigns – The early 1980s brought almost complete redesign of the entire Lego train offering with more realistic designs and large increase in the number of Lego bricks and minifigs, with new and improved electrical systems that enabled stronger locomotives, remote communication, and ability to manipulate control points, signals, level crossings and wagon de-couplers. These set even supported track-side illumination, making the train sets usable in night conditions. The most popular train sets from that period were Electric Intercity #7740 (750 Lego pieces, ten minifigs) and Steam Locomotive #7750 (290 Lego pieces, two minifigs).
1991 9-volt system – 1990s saw the arrival of another redesign that allowed transfer of electricity directly through metal strips on the train rails. The new 9-volt system featured enhanced remote controls, and break compatibility with older 12-volt train sets (who could be adapted with new motors to run on new 9-volt tracks whose gauge remained unchanged). This system remained in use until 2006 with the arrival of new train sets who operated with on-board battery power.
2006 RC trains – Old 9-volt railway system with metal tracks was switched to the all-plastic track system. Locomotives held their own motor and batteries. Since there was now more than one power source, users finally got the ability to manually control more than one train on their home-built train networks.
Power Function designs – RC train sets lasted on the market only for a year. They were discontinued in 2007 to make way for new Power Function series of train sets. Some models sold in this line come without the motors.
Popular Lego Train Sets
Some of the most popular Lego Train Sets:
Lego City High-Speed Passenger Train (#60051) – Basic modern train Lego sets that is perfect for novices. It as 610 pieces, oval track pieces, two locomotives, passenger carriage, three minifigs and support for remote control (nine AAA batteries are not included).
Lego Creator Horizon Express (#10233) – Advanced model that requires some effort to be assembled. It features 1351 Lego pieces six minifigs, but it comes without tracks. Those need to be purchased separately.
Lego City Cargo Train (#60052) – A very versatile train sets with 888 pieces and four minifigs that give users chance to operate their freight train. In addition to the train and 30 train track pieces, it also features cargo terminal and even gantry crane for loading and unloading of cargo.
Lego City Heavy Haul Train (#60098 ) – Even more impressive version of Lego cargo train, with 984 pieces and five minifigs. In addition to the remote control for electric locomotive, it also comes with remotely controlled cargo loader.
Emerald Night (#10194) – One of the most popular train Lego sets ever. It features 1085 pieces, three minifigs, and streamlined build process that is perfect for novices.
Holiday Train (#10173) – Excellent entry level freight and passenger Lego train set, originally released in 2007.