George Stephenson - Inventor of Steam Locomotive Engine for Railways
Even though many inventors worked their entire lives on building trains, engines, infrastructure and technical support, the first man who managed to popularize trains in public fashion was Englishman George Stephenson. With his contributions, industry and general public finally accepted the trains as the transportation device of the future, enabling railways to spread first across England, Europe, North America, and then over the entire world.
George Stephenson was born on on June 9, 1781 in the Wylam, England as a son of poor and hardworking miner. From his young days he experienced life in the mining village, surrounded by simple wagonways, miners and farmers. He watched for years how horses pulled cart after cart of coal and iron along simple railways that were built in his area, and always imagined new ways to improve this. After the patent of James Watt's steam engine lapsed, inventors jumped to the opportunity to see if they can adapt it to various industrial and public uses. While Richard Trevithick managed to build his first steam locomotive in 1804, lack of marketing and the will to continue innovating enabled other inventors to step in and try their luck. In early 1800s he started working in a mine that had one of the early examples of stationary steam machines built by James Watt. He introduced himself to its inner workings, but he lacked the funds and means to create anything on that technical scale.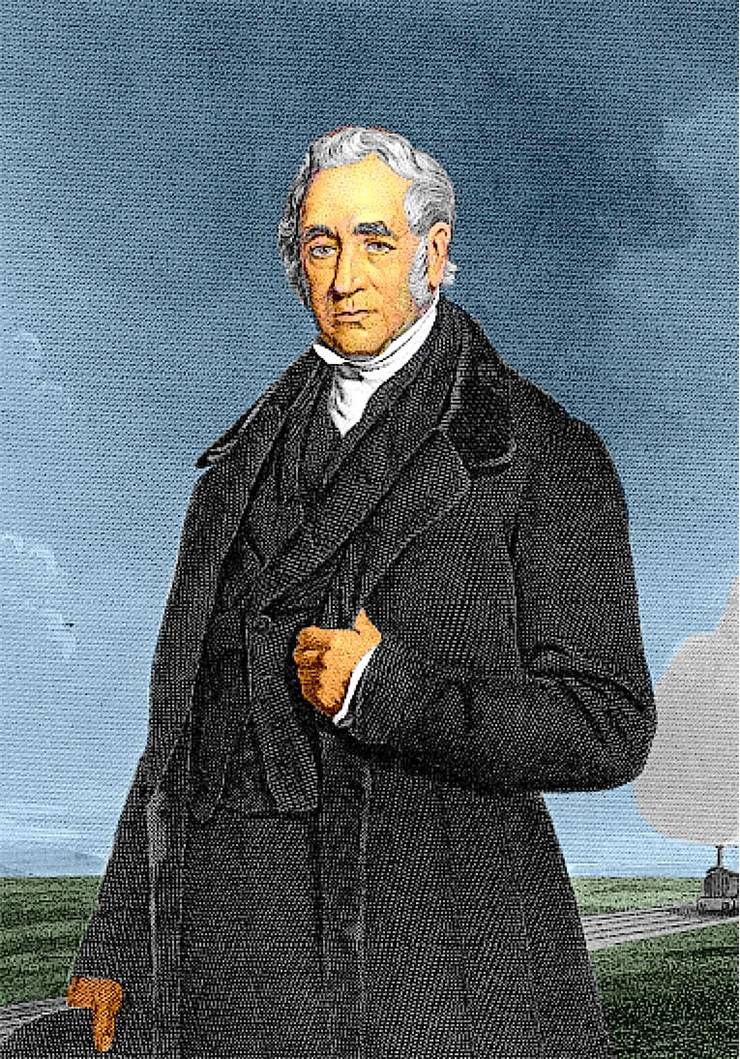 Work in mines and repair shops continued until 1813 when Stephenson heard that William Hedley and Timothy Hackworth begun constructing steam locomotive for the this local mine in Wylam. Not wanting to let this opportunity pass him, he immediately started building his own steam engine, slowly and carefully crafting each of its part by hand. 10 months later, locomotive named "Bucher" was tested by dragging 30 tons of materials on an uphill stretch of railroad that was four miles long. This successful presentation marked the first steam locomotive journey made on railroad that was specifically created for train use.
With this success under his belt, Stephenson focused himself on building more powerful and efficient steam locomotives, as well as taking part in designing first public railway between the cities of Stockton and Darlington (1825) and Liverpool-Manchester (1830). With positive impressions from both of those projects, Stephenson became popular engineer of railroad networks all over England, and designer of 16 types of steam engines.
One of the most famous parts of George Stephenson career happened during the end stages construction of Liverpool-Manchester railroad network. Seeing the designs of many inventors, directors of this project formed a competition to determine which locomotive was truly best, cheapest, reliable and easy to maintain, and able to perform in real life situation. Entries were limited by the locomotive weight of 6 tons, and had to be able to successfully finish the trip across 60 miles of newly built railroad track. By combining several state of the art inventions and good overall design, Stephenson "Rocket" won the competition and became one of the most famous train designs of that time, and the basis for creating countless team engine models in the following 150 years.